By Thomas Mukhwana
This document making rounds on Twitter is alleged to be a press statement from Safaricom PLC, posted hours after Rigathi Gachagua made comments regarding the telecommunications giant on a breakfast show at Inooro FM. The image made the most traction after being posted on popular Kenyan blogger Robert Alai's verified Twitter account with over 950 retweets and over 3,500 likes at the time this article was published.
See the fake statement in the screengrab below.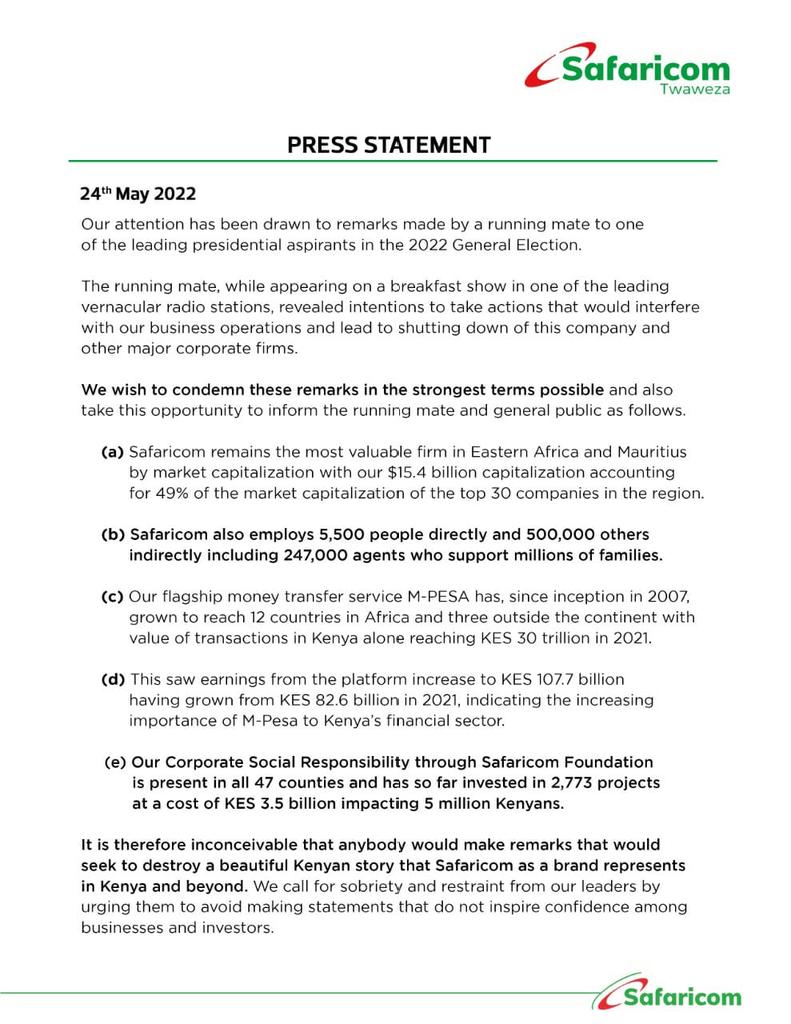 Background
On May 24, 2022, Rigathi Gachagua who is Deputy President William Ruto's running mate in the upcoming general elections was hosted on Inooro FM's breakfast show. In the interview, the Mathira Member of Parliament made remarks about Safaricom, evoking angry reactions from Kenyans online.
William Ruto's running mate Geoffrey Rigathi Gachagua now says the UDA goverment will close down the biggest multi-national company Safaricom since it is only benefitting a few people.Rigathi forgets the millions and millions of Kenyans operating M-Pesa shops across the country.. pic.twitter.com/5SaV0I89T2

— George Sankuli (@GSankuli) May 24, 2022
In the clip, Rigathi Gachagua says, "Instead of having one big company like Safaricom paying most of the taxes, if you take that amount of money from such a company and redistribute it to many people so that they each pay a bit…"
Hours later, the document started making rounds on Twitter with users directly tying it to Safaricom PLC.
Verification
In a tweet published on the official Safaricom Twitter account on May 24, 2022, the telecommunication company distanced itself from the statement claimed to have come from them.
Please note that all our official communication is shared through our verified social media channels. pic.twitter.com/di53QCEPV1

— Safaricom PLC (@SafaricomPLC) May 24, 2022
Additionally, the image does not contain any authoritative signature or title that is paramount in all corporate publications from Safaricom. Below are examples of official Safaricom press statements. They ideally contain a sign-off with the name and title of their authors.
Verdict
The Safaricom statement claimed to respond to Rigathi Gachagua's comments at an interview on Inooro FM is FAKE.